November 17, 2021 – DesisioningIT announced today that Andre-Martin Hobbs has been named as a Top 100 Auto Finance Innovator in the 2021 Auto Finance Innovator Awards which recognizes auto finance professionals who have made significant technological contributions to their company and the industry. The awards, sponsored by Lightico and Auto Fin Journal, come on the heels of significant innovation in the auto finance industry during the last 18 months.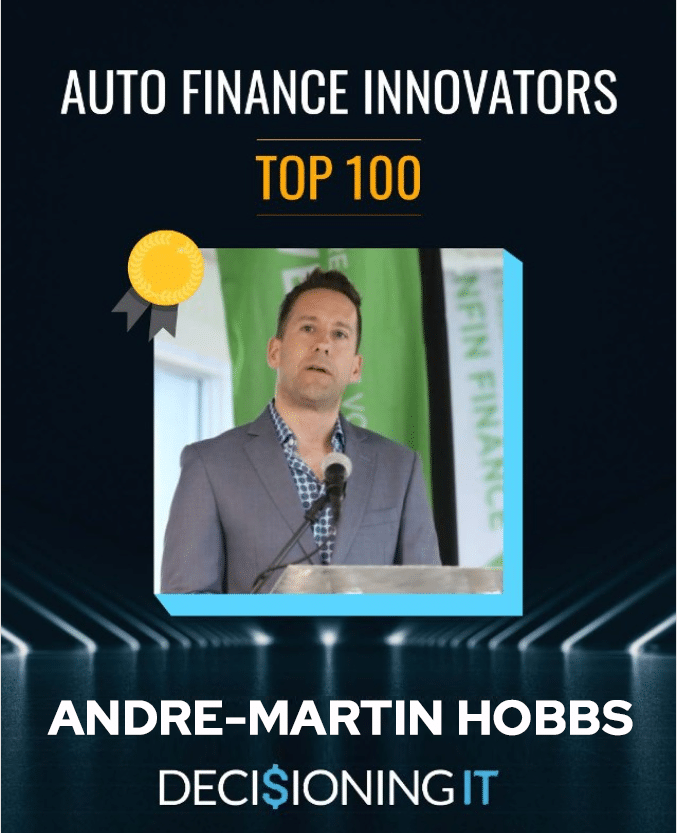 "I am deeply grateful to the team who selected me for this award. Thank you for inspiring me to keep working hard to create tools and solutions that are transforming the auto finance industry!" said Andre-Martin Hobbs, co-founder and CPO at DecisioningIT.
With its automotive dealership software, called the Lucy F&I Platform, DecisioningIT created a new standard in automotive lending by combining artificial intelligence and human data. Lucy is a virtual assistant that creates the optimal deal structure for the customer and the dealership regardless of their credit history. DecisioningIT also creates consumer-facing technologies that enable easy financing.
"We saw that the world of buying cars, despite having an unimaginable potential for success and improvement, remains unexplored when it comes to generating convenience and control with self-service technology. That is why we decided to take the initiative, by striving to create a new standard in automotive lending.", said Hobbs.
"We're incredibly excited to see such a strong cadre of auto finance professionals leading innovation of the industry at a critical time," said Zviki Ben-Ishay, CEO and Cofounder of Lightico. "Leaders like Andre-Martin are an excellent example of technological innovation truly revolutionizing their company."
"We were blown away at the level of innovation and dedication to improving the auto finance world that the professionals on this list have shown," said Nick Zulovich, Senior Editor at SubPrime Auto Finance Journal, part of Cherokee Media. "It isn't easy to navigate the world of digital transformation and success requires a keen understanding of the challenges businesses face as well as the vision to execute."
###
About Andre-Martin Hobbs
André-Martin is a digital entrepreneur who, since 1999, has developed cutting-edge expertise in the field of automotive marketing. He has successfully built, developed, and sold several automotive digital solutions companies and is deeply involved in the operations of a dealer group in Quebec, Canada.
André-Martin developed DecisioningIT and the F&I Lucy tool suite to facilitate the financing process and resolve the difficulties he identified with his clients. By helping dealerships, Lucy also helps consumers who need a vehicle. Lucy is a transparent, win-win solution.
About DecisioningIT
DecisioningIT's mission is to create a new standard in automotive lending. By combining artificial intelligence and human data, we are changing the way consumers get financed. What started as an idea became a solution. Our team consists of industry experts and dealership owners who are dedicated to helping dealers get more consumers financed.
About Lightico
Lightico is an award-winning SaaS platform that empowers businesses to accelerate their customer journeys through automated workflows. With the Lightico Digital Completion Cloud™, companies leverage no-code workflows to easily collect customer eSignatures, documents, and payments, and authenticate ID in real time — straight from the customer's smartphone. By unifying the previously siloed steps of customer-facing processes, businesses enjoy faster and shorter sales and servicing cycles, boost NPS, and significantly improve their completion rates. Hundreds of enterprises, including Fortune 500 companies in highly regulated industries such as finance, insurance, and telecommunications, rely on Lightico to make their customer journeys more efficient and streamlined.