Montreal, Qc – December 6, 2021 – DecisioningIT, the corporation behind the Lucy F&I Platform announced today that it has become a participant in the CDK Global Partner Program. As a member of one of the largest third-party partner programs in the industry, DecisioningIT is now part of a marketplace of applications and integrations that CDK Global, Inc. (Nasdaq: CDK), a leading enabler of end-to-end automotive commerce, developed to help automotive dealers succeed.
"We are very excited to be part of CDK's Global Partner Program. This data integration will enable CDK and OneEighty users to access a virtual F&I assistant, called Lucy. Lucy has been designed to get more consumers approved by financial institutions while managing the entire process with its reliable digital hands, reducing hours of work into mere minutes." said CEO & co-founder Rosa Hoffmann.
"By combining artificial intelligence and human data, we are changing the way consumers get financed." said Andre-Martin Hobbs, CPO and co-founder. "Lucy improves F&I efficiency by quickly and precisely automating complex and routine tasks. This allows Business Managers to spend more quality time with customers and close more deals."
In just a few seconds, Lucy gets 85% of customers automatically pre-qualified regardless of their credit history, suggests the optimal deal structure (incl. reserves and bonus), analyzes lender pre-calls and finds matching inventory and so much more.
"We're very pleased to introduce DecisioningIT as the newest member of the CDK Global Partner Program," said Sandy Orlando, senior vice president, Data and Fortellis, CDK Global. "DecisioningIT is a welcome addition to our vibrant program that provides dealers with a range of partner choices and the assurance that their programs can be seamlessly integrated with our applications."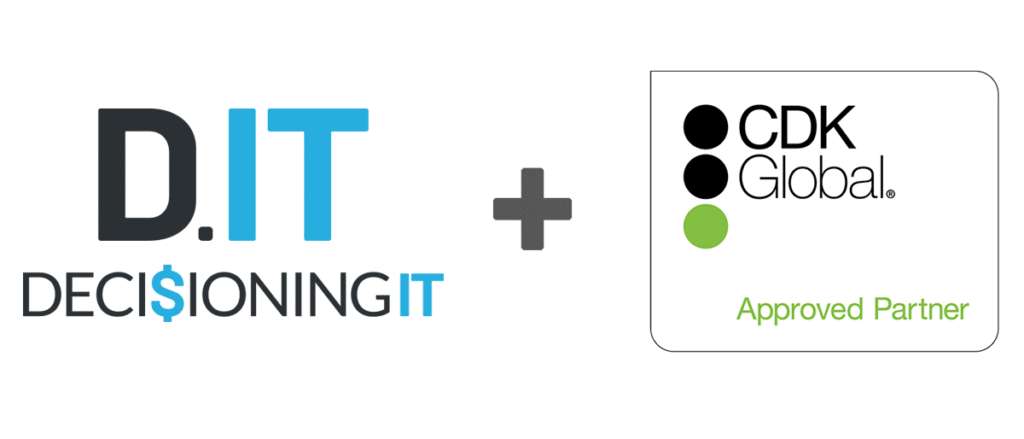 The CDK Global Partner Program provides its partners with access to a diverse CDK ecosystem through the ability to integrate with a range of CDK applications, as well as with CDK dealer and third-party websites. The CDK integration allows data to flow between CDK and Lucy, enabling F&I managers to access consumers and inventory directly into the Lucy F&I Platform.
About the CDK Global Partner Program
The CDK Partner Program now numbers more than 575 partner companies and 995 unique applications auto dealers can use to run their businesses. As part of the CDK ecosystem, the CDK Partner Program provides data, workflow integration, and intelligent insights to a wide range of third parties, OEMs and dealers. For a full list of partners and applications available through the program, visit cdkglobal.com/us/partners-list.
About CDK Global
CDK Global (NASDAQ: CDK) is a leading provider of integrated data and technology solutions to the automotive, heavy truck, recreation, and heavy equipment industries. Focused on enabling end-to-end, omnichannel retail commerce through open, agnostic technology, CDK Global provides solutions to dealers and original equipment manufacturers, serving nearly 15,000 retail locations in North America. CDK solutions connect people with technology by automating and integrating all parts of the dealership and buying process, including the acquisition, sale, financing, insuring, parts supply, repair, and maintenance of vehicles. Visit cdkglobal.com.
About DecisioningIT
DecisioningIT's mission is to create a new standard in automotive lending. By bringing together artificial machine intelligence and human-generated data, we are gradually changing the way consumers get financed from their financial institutions, reducing piles of paperwork to a single software, and hours of work into mere minutes. Lucy was built and used by dealers for 5 years prior to its commercialization in April 2021 and has since integrated into over 100 dealers and is gaining traction on a daily basis.
Company Media Contact:
For further information:
Stephanie Nagy,
416-814-3450 ext 201,
snagy@decisioning.it
CDK Global Media Contact:
Tony Macrito
tony.macrito@cdk.com