By Auto Remarketing Canada Staff – MISSISSAUGA, Ontario – Cox Automotive Canada has new leadership.
On Monday, Cox Automotive announced that Ola Ajayi-Salako has been promoted to senior director, agile delivery, and will act as the site leader for Cox Automotive Canada, effective immediately.
In this expanded role, the company said Ajayi-Salako will work closely with local teams and foster strategic collaboration between Canadian and U.S. leaders to ensure strong connectivity between all business units.
"As we bring our teams together to collaborate and drive more innovative solutions, we know that Ola is the perfect person to represent the Canadian market in the development of our North American approach," Cox Automotive president Steve Rowley said.
The company described Ajayi-Salko as a transformational leader with strong management, communication, problem-solving and team building skills. Ajayi-Salako joined Cox Automotive in 2007 and has consistently driven targeted operating results in roles in both the United States and Canada, according to the company.
Previously as director, PMO and change management, the company mentioned Ajayi-Salako played an integral role in long-term planning across all Cox Automotive Canada businesses while aligning with other international and global businesses.
"Ola is passionate about community development and empowering women and youth," Cox Automotive said.
More on Ola Ajayi-Salako: Earlier this year, Ola Ajayi-Salako honoured as part of Auto Remarketing's Women in Automotive: Profiles in Leadership Program. See below.
Ajayi-Salako honoured as part of Auto Remarketing's Women in Automotive: Profiles in Leadership program.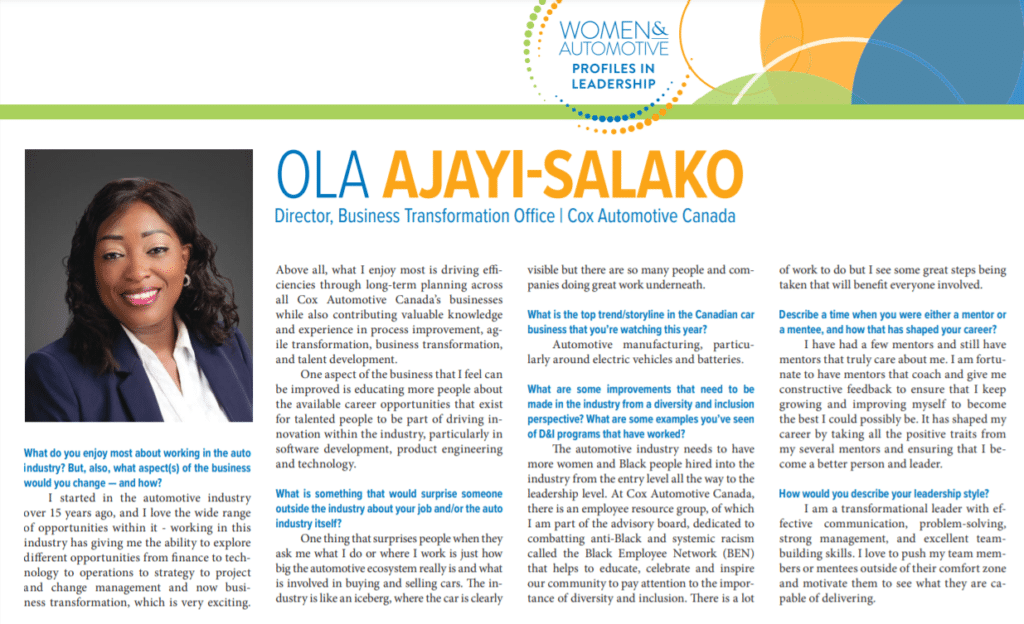 What do you enjoy most about working in the auto industry? But, also, what aspect(s) of the business would you change — and how?
I started in the automotive industry over 15 years ago, and I love the wide range of opportunities within it – working in this industry has giving me the ability to explore different opportunities from finance to technology to operations to strategy to project and change management and now business transformation, which is very exciting.
Above all, what I enjoy most is driving efficiencies through long-term planning across all Cox Automotive Canada's businesses while also contributing valuable knowledge and experience in process improvement, agile transformation, business transformation, and talent development.
One aspect of the business that I feel can be improved is educating more people about the available career opportunities that exist for talented people to be part of driving innovation within the industry, particularly in software development, product engineering and technology.
What is something that would surprise someone outside the industry about your job and/or the auto industry itself?
One thing that surprises people when they ask me what I do or where I work is just how big the automotive ecosystem really is and what is involved in buying and selling cars. The industry is like an iceberg, where the car is clearly visible but there are so many people and companies doing great work underneath.
What is the top trend/storyline in the Canadian car business that you're watching this year?
Automotive manufacturing, particularly around electric vehicles and batteries.
What are some improvements that need to be made in the industry from a diversity and inclusion perspective? What are some examples you've seen of D&I programs that have worked?
The automotive industry needs to have more women and Black people hired into the industry from the entry level all the way to the leadership level. At Cox Automotive Canada, there is an employee resource group, of which I am part of the advisory board, dedicated to combating anti-Black and systemic racism called the Black Employee Network (BEN)that helps to educate, celebrate and inspire our community to pay attention to the importance of diversity and inclusion. Th ere is a lot of work to do but I see some great steps being taken that will benefit everyone involved.
Describe a time when you were either a mentor or a mentee, and how that has shaped your career?
I have had a few mentors and still have mentors that truly care about me. I am fortunate to have mentors that coach and give me constructive feedback to ensure that I keep growing and improving myself to become the best I could possibly be. It has shaped my career by taking all the positive traits from my several mentors and ensuring that I become a better person and leader.
How would you describe your leadership style?
I am a transformational leader with effective communication, problem-solving, strong management, and excellent teambuilding skills. I love to push my team members or mentees outside of their comfort zone and motivate them to see what they are capable of delivering.