Source: Autoremarketing
The newest auto finance data from Experian reinforced the theory that consumers are taking delivery of used vehicles more often because of necessity.
As the automotive market continues to face inventory shortages, analysts said consumers are shifting back to the used-vehicle market. According to Experian's State of the Automotive Finance Market Report: Q2 2022 released on Thursday, 61.78% of all vehicle financing was for used vehicles. That's up from 58.48% in Q2 2021.
Experian discovered the shift back to used vehicles was present across all credit tiers, though near prime saw the largest increase, going from 72.3% in Q2 2021 to 77.69% in Q2 2022.
Analysts said subprime consumers saw the percentage of used-vehicle contracts grow from 86.28% in Q2 2021 to 89.29% in Q2 2022, while prime consumers saw growth from 61.02% to 63.59% in the same time frame.
"Between the inventory shortage and rising vehicle costs, consumers are looking to make the most cost-effective decision, which is often a used vehicle," Experian senior director of automotive financial solutions Melinda Zabritski said.
"The benefit of higher vehicle values is that consumers are able to get more for their trade-ins, which can help offset the increased cost of their next vehicle," Zabritski continued.
The shift to used vehicles comes amid rising average amounts finance and monthly payments for both new and used models.
Experian reported the average amount for a new vehicle increased 13.21% year-over-year to reach $40,290 in Q2, with a monthly payment of $667 compared to $582 in Q2 of last year.
And according to the report, average amounts finance for used vehicles saw a sharper increase of 18.66% year-over-year, clocking in at $28,534, with an average monthly payment of $515, an increase from $440 in Q2 2021.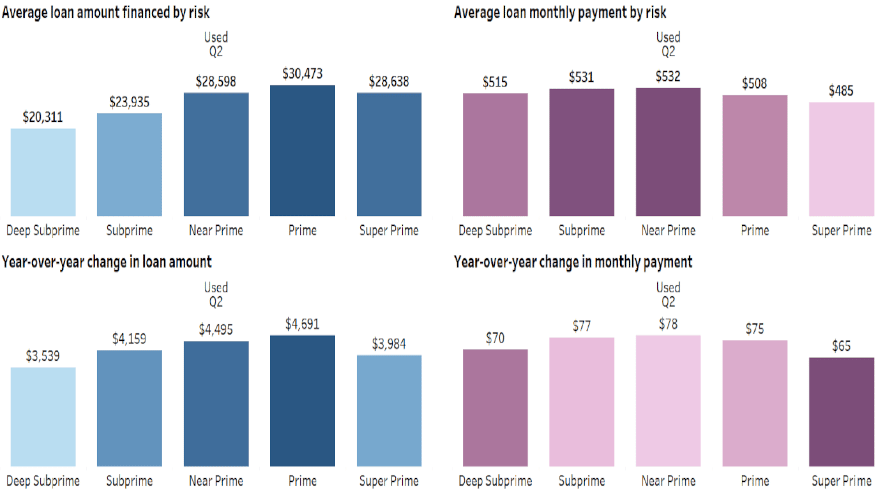 Credit unions gain market share
As consumers financed more used vehicles, Experian noticed credit unions experienced significant growth.
Analysts said credit unions generated a jump in overall market share, reaching 25.81% in Q1 2022, up from 18.32% in Q1 2021.
Credit unions now are second in market share only to banks (27.94%) while surpassing captive finance companies (22.64%), according to Experian.
Analysts pointed out credit unions generated growth in both new- and used-vehicle financing, though the growth was more pronounced in the used-vehicle space.
Though captives still led new-vehicle financing at 46.14% in Q2, Experian said credit unions increased the presence to 21.35%, up from 11.15% last year.
For used-vehicle financing, credit unions comprised 28.62% of the market in Q1 2022, up from 23.49% in Q1 2021. The growth places credit unions just behind banks, which held 29.19% of used-vehicle financing in Q1 2022, according to Experian.
"With the market dynamics we're seeing right now, the shift in lender market share makes sense, as credit unions often offer two things that consumers are seeking: lower interest rates and longer terms," Zabritski said.
"This helps to manage their monthly payment, which is often what consumers prioritize when looking at financing options. Understanding these trends will ensure lenders and dealers can help consumers make the most informed decisions when purchasing a vehicle," she went on to say.
Continue reading: Autoremarketing