Dan O'Brien Kia, of Concord, N.H., must pay $1.25 million to the New Hampshire attorney general to resolve allegations of unfair and deceptive practices at the dealership.
The settlement requires Dan O'Brien Kia to "comply with a series of strict injunctive terms over the next five years to ensure consumers are protected from similar practices in the future," according to the New Hampshire Department of Justice's Dec. 19 written release.
These terms include:
Reimburse the attorney general $49,209 in legal costs.
Hire an independent compliance monitor to review and report on its business practices for the next five years.
Record audio and video of financing discussions between employees and customers.
Pay restitution to two consumers who were victims of the deceptive practices.
Implement staff training program to educate them on state consumer protection laws.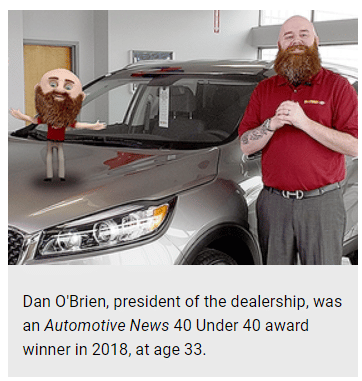 The Consumer Protection and Antitrust Bureau was investigating Dan O'Brien Kia Concord based on a high volume of consumer complaints filed between 2019 and 2021.
The bureau found dealership employees "persuaded consumers into purchasing vehicles they could not afford using deceptive sales practices; falsely inflated consumer income information on loan applications; and forged the signature of a customer on loan paperwork."
According to the attorney general, the dealership enrolled customers with poor scores in a "credit repair" or "credit rehabilitation" effort known as "the program." It was a six-month financing program used when a customer told the dealership they couldn't afford the payment terms.
Customers were informed they qualified for "the program," the attorney general's office charged, and if they paid their car loan on time for half a year, their credit score would improve and the terms could be refinanced. But it was nothing more than a sales pitch not affiliated or endorsed by any bank, despite the dealership saying it was. Instead, customers were left with loans they were unable to pay.
Continue reading here: https://www.autonews.com/finance-insurance/nh-kia-dealer-pay-125m-settlement-deceptive-practices