by Sarah Marie June 28, 2021 in Business (New York Weekly)
More non-prime consumers are getting behind the wheel now than ever before thanks to DecisioningIT. The fin-tech framework company uses an AI loan-matching platform that allows dealers to match consumers with various financial institutions. Automobiles are just the tip of the iceberg when it comes to what this up-and-coming company has in store for the future.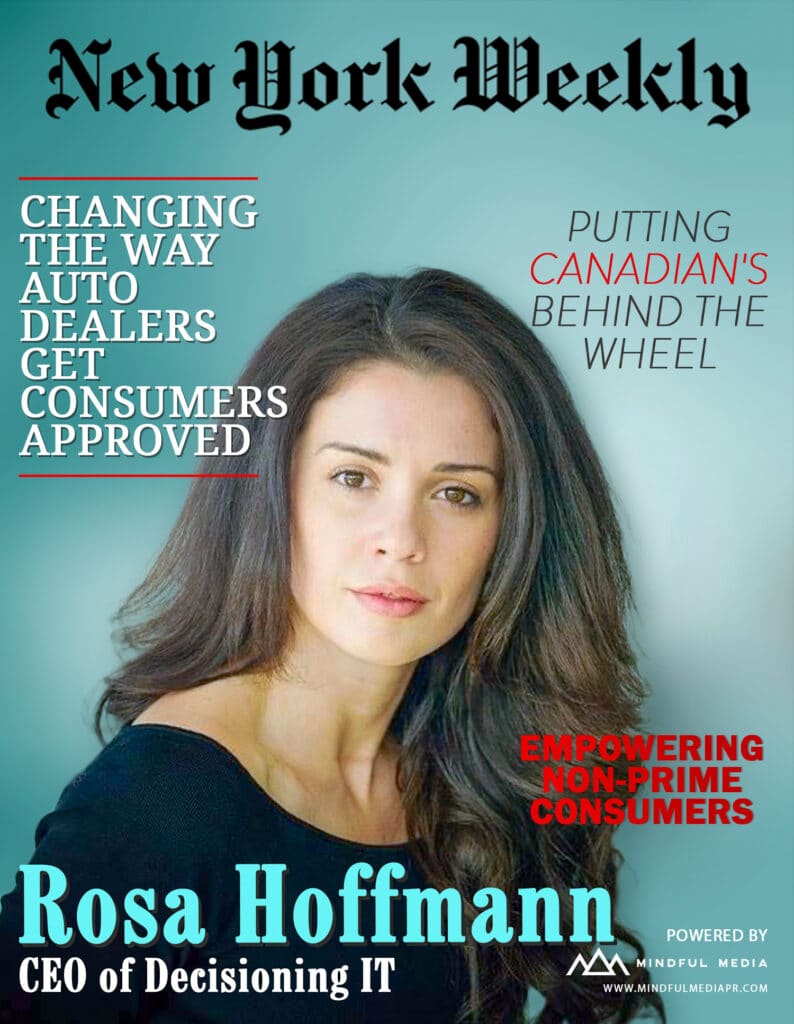 "I'm sorry, you're not approved to purchase… any of these vehicles," is a statement that neither parties involved in this conversation are ever happy about.
But the reality is, non-prime car shoppers across the nation are all too often subjected to hearing it.
Despite the fact that transportation is an essential service for society, a large portion of the population is forced to get from A to B through public transportation methods as they fail to meet the requirements needed to receive a car loan.
And though public transportation has wonderful intentions of being a viable commuter service, it's incapable of meeting the needs of everyone.
Parents needing a safe and effective way to transport their kids to and from school, students looking to efficiently get from campus to their part-time jobs, and employees who need to commute to areas outside of bus routes are amongst the many examples of cases where public transportation fails to be a solution.
This problem is only exacerbated in a country like Canada where several months of the year are accompanied by sub-zero temperatures, making life without safe and reliable transportation ever more challenging and dangerous.
But what if there was a way to secure financing options for such individuals, despite their non-prime credit scores?
This is the question André-Martin Hobbs, president of DecisioningIT, asked over five years ago after becoming frustrated with seeing countless customers getting rejected from car loan applications due to their credit score. As a digital entrepreneur with over two decades of experience developing cutting-edge automotive marketing solutions, Hobbs's inquiry paved the groundwork for what is now DecisioningIT.
About DecisioningIT
As an AI loan-matching platform, DecisioningIT allows car dealerships to quickly and easily pre-approve more non-prime consumers. The company's predictive AI technology matches a consumer to one of the many financial institutions allowing car dealerships to increase sales and customer satisfaction. To date, the platform has increased non-prime automotive sales by 50%, safely putting more drivers behind the wheel all across Canada.
The original product, named Lucy, was built roughly five years ago as a CCM (customer credit management) platform, providing a solution to Hobbs's frustrations. Lucy manages every aspect of the non-prime communications funnel for the acquisition and nurturing of clients. Fast-forward to April of 2021, and Lucy has grown from one solution to a nationwide organization that is attracting new buyers to dealerships across the country with three products: Lucy platform, Lucy Widget, and Lucy API (Application Programming Interface).
Lucy's success in the automotive industry soared one year into her existence when Hobbs invited the company's current CEO, Rosa Hoffmann, to share her thoughts on Lucy and how the company could grow. With over 15 years of experience in the automotive industry, Hoffmann's expertise proved immediately valuable.
"When André reached out to me about Lucy, the product he created, I started to look into it and realized that this was a solution that worked really well and a necessary tool for today's dealers," shared Hoffmann. "I began advising for the company, and this year I decided to step into a more permanent role, officially joining as CEO at the beginning of 2021."
In seeing the impact Lucy could have on consumers and dealers, Hoffmann quickly set her sights on helping the company step into the future.
"With the world turning all-digital, dealers need to be able to fully service consumers online. This is why the Lucy widget was born," furthered Hoffmann. "We wanted to create a product line that serves our dealers and works with partners, hence the API. We are an open platform and we want to work with other companies to help auto dealers create more success and give customers a more transparent seamless experience."
The forward-thinking CEO and entrepreneur's ability to see immense potential in Lucy, even in its infancy, has driven DecisioningIT's success in an industry that's in dire need of a solution.
"We provide immense value for all customers, prime and non-prime, but we do specialize in the non-prime niche," informed Hoffmann. "Many perceive this as being a niche that isn't really important, however, we know that's not true."
Having garnered a bad reputation, most dealerships fail to see non-prime buyers as legitimate clients and refrain from offering them the same attention and service expressed to customers boasting a higher credit score.
"The perception," shared Hoffmann, "is often that non-prime buyers have bad credit and are unable to get approved, or if they do, it will be at a higher interest rate. That isn't always the case. It takes some extra work and effort to get these customers approved. People are more than just a credit score and we're helping lenders see that too.
"Lucy does a majority of the hard work and provides dealers with options, something unheard of in the auto industry. The old way of doing business is to submit a credit application one by one and hope someone will approve it. If they do, great. If not, a majority of the time the customer has no other options. But even when you do get approved did you get the best option available for you? That's why Lucy is a substantial tool all dealers should use."
In the wake of COVID19, credit scores nationwide have taken a huge hit as a result of high unemployment rates, bankruptcies, and evictions amongst other reasons. Because of this, the non-prime consumer base is growing, and dealerships need to develop a system to accommodate these buyers if they themselves wish to stay competitive.
What DecisioningIT offers automotive dealerships seeking to stay competitive in this changing buyers landscape is a chance to finance more non-prime buyers, further increasing their customer base.
"Every dealership should have this," informed Hoffmann. "The full platform operates as a CRM (customer relationship management) with the widget serving as a quick online retail solution."
Currently, the company is onboarding 5-7 dealerships a week, with Canadian dealerships clambering to provide better buying options to consumers.
Curious about how it all works?
By taking in a multitude of buyer information, Lucy is able to pull on more data than simply the consumer's credit score.
Beginning with a Custom Analysis, Lucy pulls on the real-time analysis of credit bureaus. She then conducts an Easy Interpretation which searches for favorable credit behavior and summarizes positive consumer points that can help her negotiate with financial institutions. These two reports are combined to generate a Smart Score, which is then run through an Integration Flexibility scaling system.
By assessing more than just credit score alone and scouting multiple financing institutions, Lucy is able to create optimal options for consumers, getting them behind the wheel with fewer headaches.
Since the official launch of DecisioningIT in April of 2021, the company has experienced soaring growth. "We have plans to grow, grow, grow," stated Hoffmann. "We definitely want to branch into the U.S. market. Eventually, we have plans to tap into other industries."
As of now, DecisioningIT works solely as a financing option for the automotive dealership industry, but with the technology being relevant to a multitude of industries where consumers are in need of financing options, the opportunities for expansion are seemingly endless. The impact that approved financing can have on an individual and their families can be immense. Historically, a non-prime credit rating had the potential to place individuals within the poverty cycle. Innovations such as DecisioningIT provide revolutionary solutions to help people break out of this cycle and experience the opportunities they've been deprived of.
To discover how DecisioningIT can help automotive dealerships or to connect with a dealership currently offering the platform, visit https://www.decisioning.it/ for more details.