Andre-Martin Hobbs, Partner at DecisioningIT:
"I am excited to inform you that Lucy is now two-way connected to the Activix CRM!"
Clients of Activix can now transfer customer records from the sales department to the F&I department, where Lucy is used. Lucy will also be able to update the customer information and F&I statuses, back to Activix!
𝙇𝙚𝙖𝙧𝙣 𝙢𝙤𝙧𝙚 𝙖𝙗𝙤𝙪𝙩 𝙩𝙝𝙚 𝙇𝙪𝙘𝙮 𝙁&𝙄 𝙋𝙡𝙖𝙩𝙛𝙤𝙧𝙢: https://lnkd.in/d4RU79k8
⭐⭐⭐ Je suis très heureux d'annoncer que Lucy est désormais connectée de façon bidirectionnelle avec le CRM Activix. ⭐⭐⭐
Les clients d'Activix peuvent désormais transférer les fiches clients, du département des ventes vers le département F&I où Lucy est utilisée. Lucy pourra ensuite transférer les informations mises à jour et les statuts F&I vers Activix !
𝙋𝙤𝙪𝙧 𝙚𝙣 𝙨𝙖𝙫𝙤𝙞𝙧 𝙥𝙡𝙪𝙨 𝙨𝙪𝙧 𝙡𝙖 𝙥𝙡𝙖𝙩𝙚𝙛𝙤𝙧𝙢𝙚 𝙁&𝙄 𝙇𝙪𝙘𝙮:
https://lnkd.in/dDH9eQFQ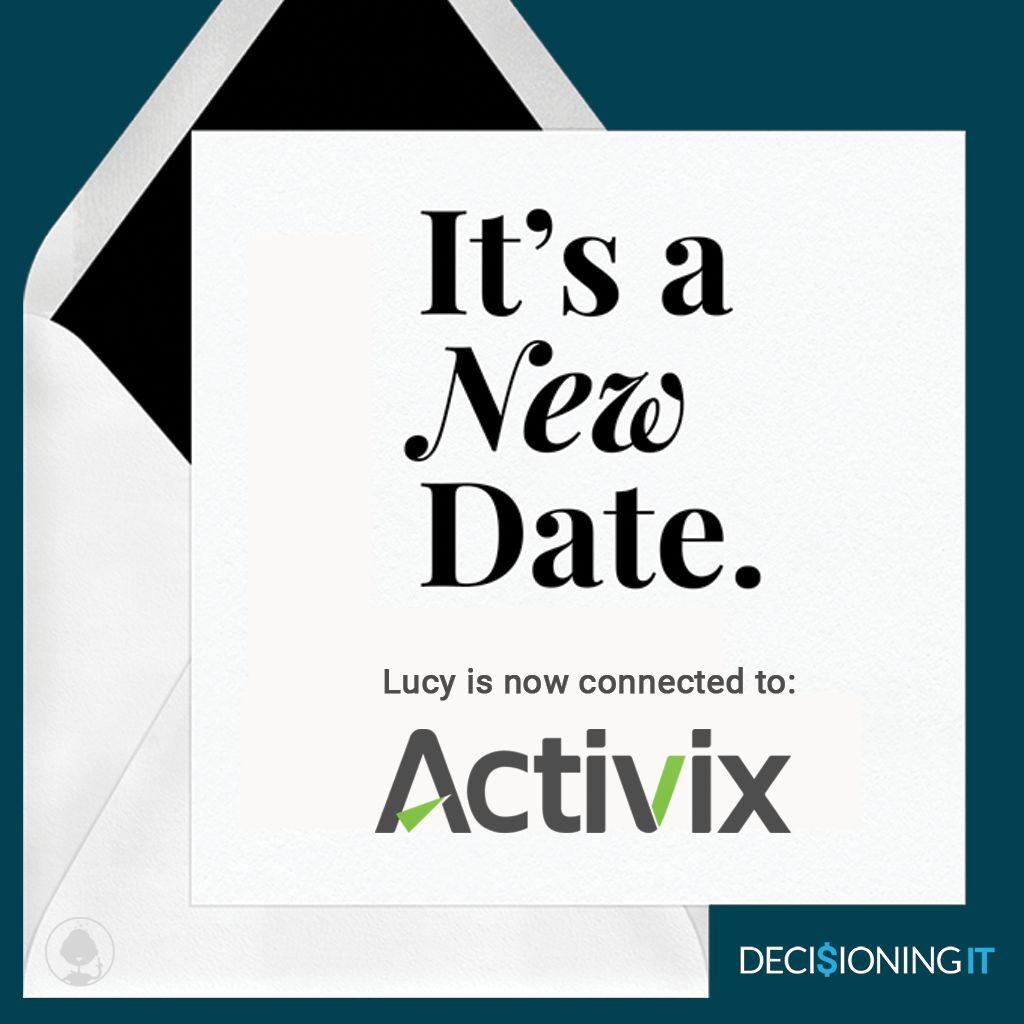 Special thanks to everyone at Activix!
Un merci spécial à tout le monde chez Activix 🙂
Evelyne Therrien, Daniel Racine, Maxime Béliveau, Marie-Christine Côté, Rachel Cardinal-Bussières, Karine Tessier, Nancy Bolland, Maxime Renaud, Alexandre Robert, Frédéric Théorêt, Jessica Ross, Anne-Sophie Lalande, Marie-Christine Lussier, Jonathan Borsellino, Cathy Roy, Lyska Aubé, Josiane Tetreault-Brouard, Julie Imbeau, Tristan Forget Millette, Sunny Bonnard, Philippe Chaput, Mélanie Cloutier, Andreanne Vachon, Julie Goudreau, Sandrine Piché, Jessy Aubry, Clodérik Paquette & …Lucy Watson